KEGIATAN VOLUNTOURISM MELALUI PARIWISATA BERBASIS MASYARAKAT DI YAYASAN WIDYA SARI MELALUI PROGRAM UBUD VILLAGE DI BANJAR KETOGAN DESA TAMAN, ABIANSEMAL KABUPATEN BADUNG
Keywords:
Voluntourism, Voluntourist, Community Based Tourism (CBT)
Abstract
ABSTRACT
This research location is in Widya Sari Foundation with Ubud Village Program, voluntourism activity is a special interest tourism. Voluntourism is a voluntary social activity combine with tourism activities. Voluntourists have different goals and motivations in this activity. in voluntourism activities volunteers can interact with local communities to gain knowledge and skills for the community and the younger generation and also to increase the interaction of foreign tourists directly. From the research gained through in-depth interviews with the voluntourism from some countries at Widya Sari Foundation in Ubud Program Village, the voluntourist have some motivation to do voluntourism program such as: to know the culture of the community, to enjoy the rural nature as well as to carry out social activities by providing information and guidance to communities to conduct positive activities by providing a good way of gardening, caring for livestock, and recycling organic and anorganic waste. In others, social activities for children provided by voluntourist are how to preserve the environment, introduce children's games from their country and provide additional English education to children. While the form of community participation in the Ubud village program for voluntourist activities is to receive voluntourist openly and create a family atmosphere by inviting the voluntourist to participate in social and cultural activities such as they can participate in Balinesse traditional wedding event, 3 monthly baby activities with Bali ceremony, and gotong royong (teamwork) in custom village area. In addition, voluntourist can also do tourism activities to several places around the foundation such as rafting, trekking to rice fields, cycling, etc.. All activities undertaken by the voluntourist provide by Yayasan Widya Sari is based on Tri Hita Karana concept that involves the local community so that voluntourism activities are mutual respect between the community and the voluntourist. By giving a good impression and experience to voluntourist it will be able to provide personal satisfaction to each voluntourist in this voluntourism activities in Widya Sari Foundation in particular and local communities in general.
Keyword: Voluntourism, Voluntourist, Community Based Tourism (CBT)
Downloads
Download data is not yet available.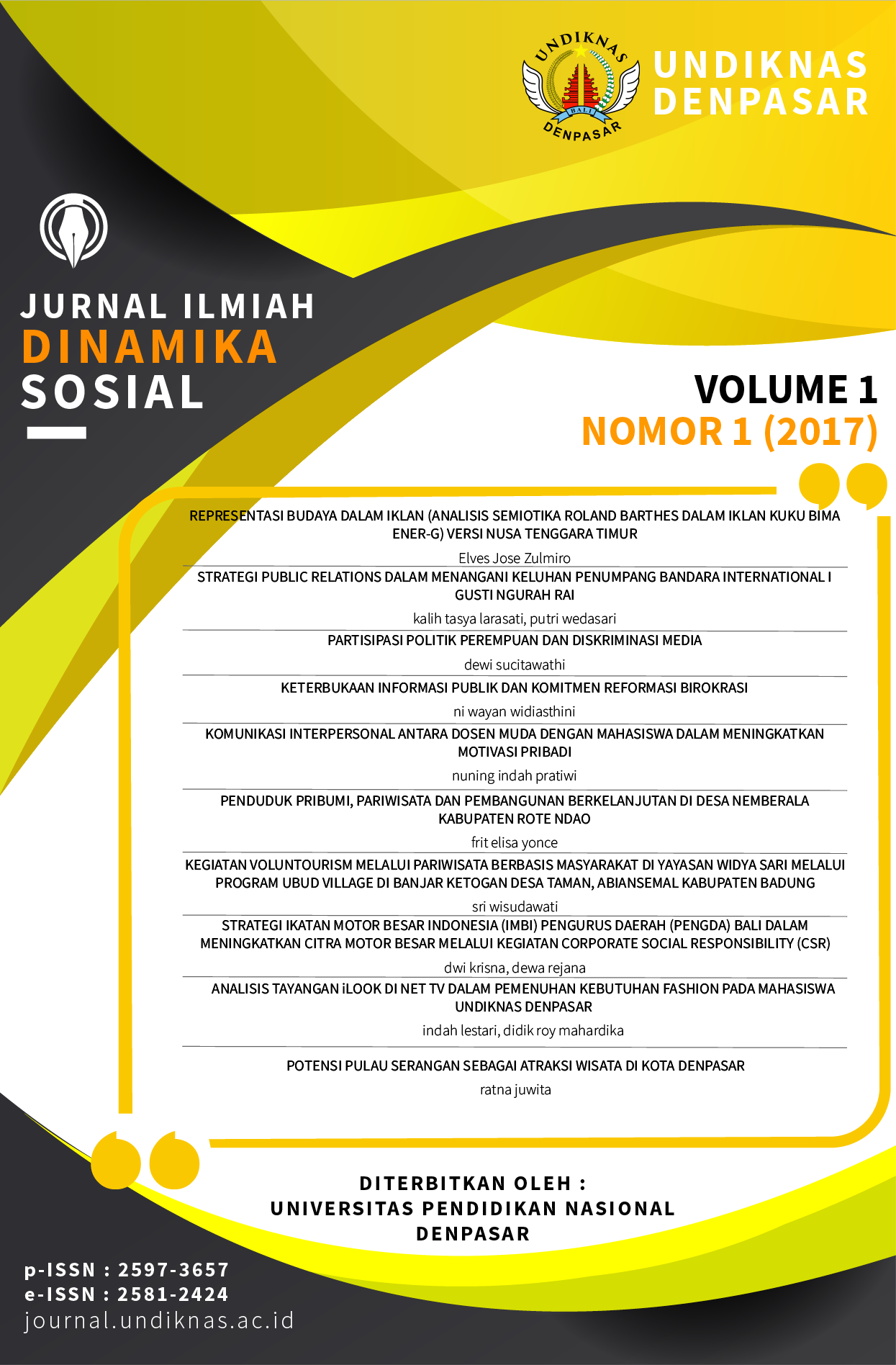 Downloads
How to Cite
1.
wisudawati sri. KEGIATAN VOLUNTOURISM MELALUI PARIWISATA BERBASIS MASYARAKAT DI YAYASAN WIDYA SARI MELALUI PROGRAM UBUD VILLAGE DI BANJAR KETOGAN DESA TAMAN, ABIANSEMAL KABUPATEN BADUNG. JIDS [Internet]. 2017Feb.1 [cited 2023May28];1(1):67-7. Available from: https://journal.undiknas.ac.id/index.php/fisip/article/view/192