KEBEBASAN PENETAPAN MODAL DASAR PERSEROAN TERBATAS OLEH PARA PIHAK BERDASARKAN PERATURAN PEMERINTAH NOMOR 29 TAHUN 2016
Abstract
Along with the development of law and the community needs that developed rapidly, especially in the globalization era besides the enhancement of public demand for business development in accordance with good corporate governance principles, therefore on August 16, 2007 the Law No. 40 of 2007 was issued, which replace the Law Number 1 of 1995 concerning Limited Liability Companies. Then the enactment of Government Regulation No. 29 of 2016 concerning Changes in Authorized Capital of Limited Liability Company, specifically for beginner entrepreneurs to establish a Limited Liability Company. The provisions of Article 1 paragraph (3) of Government Regulation Number 29 of 2016 regulate: the amount of authorized capital for Limited Liability Company as referred to in paragraph (1) which based on the agreement of the Limited Liability Company founders. Furthermore, in Article 32 paragraph (1) of Law Number 40 Year 2007 concerning Limited Liability Company, regulate that the authorized capital of the Company is at least Rp. 50,000,000.00 (fifty million rupiah). From the above provisions it can be said, there is a norms conflict that cause multiple interpretations and does not provide legal certainty for the parties. Furthermore, the norms regulated in the Government Regulation should be in line with the norms regulated by the law above it, In this case Law Number 40 Year 2007.
Keywords : Authorized Capital, Limited Liability Company, Parties
Downloads
Download data is not yet available.
References
Ali, Zainudin 2008, Filsafat Hukum, Sinar Grafika, Jakarta
__________ 2010, Metode Penelitian Hukum, Sinar Grafika, Jakarta
Dirjosisworo, Soedjono 1997, Hukum Perusahaan Mengenai Bentuk-bentuk Perusahaan (Badan Usaha) di Indonesia, Mandar Maju Bandung
Dahlan, dan Sanusi Bintang, 2000, Pokok-pokok Hukum Ekonomi dan Bisnis, Citra Aditya Bakti Bandung.
Harjono, Dhaniswara 2007, Hukum Penanaman Modal Tinjauan Terhadap Pemberlakuan Undang-undang No. 25 Tahun 2007 Tentang Penanaman Modal Edisi Pertama, Rajawali
Hadikusuma Sutantya R. dan Sumantoro, 1995, Pengertian Pokok Hukum Perusahaan: Bentuk-Bentuk Perusahaan yang Berlaku di Indonesia, Edisi ke-1 Cetakan ke-3, Raja Grafindo Persada, Jakarta
Harahap, M. Yahya 2009, Hukum Perseroan Terbatas, Sinar Grafika, Jakarta. Pers, Jakarta
Muhammad, Abdulkadir 2002, Hukum Perusahaan Indonesia, Citra Aditya Bandung
____________________, 2004, Hukum dan Penelitian Hukum, Citra Aditya Bakti, Bandung
____________________, 2010, Hukum Perusahaan Indonesia, Citra Aditya Bakti, Bandung
Nadapdap Binoto, 2012, Hukum Perseroan Terbatas, Permata Aksara, Jakarta
Nasution, Bahder Johan 2008, Metode Penelitian Hukum, Mandar Maju, Bandung
Philip J. Scaletta Jr., dalam Zaman Hadi, 2011, Karakteristik Tanggung Jawab Pribadi Pemegang Saham, Komisaris dan Direksi dalam Perseroan Terbatas, UB Press, Malang
Rido, R. Ali 1986, Hukum Dagang tentang Aspek-aspek Hukum dalam Asuransi Udara, Asuransi Jiwa dan Perkembangan Perseroan Terbatas, Remadja Karya, Bandung
Widjaya, I.G Rai 2000, Hukum Perusahaan dan Undang-undang dan Peraturan Pelaksana di Bidang Usaha, KBI, Jakarta
Wicaksono, Frans Satrio 2009, Tanggungjawab Pemegang Saham, Direksi, dan Komisaris PT(PT), Visimedia, Jakarta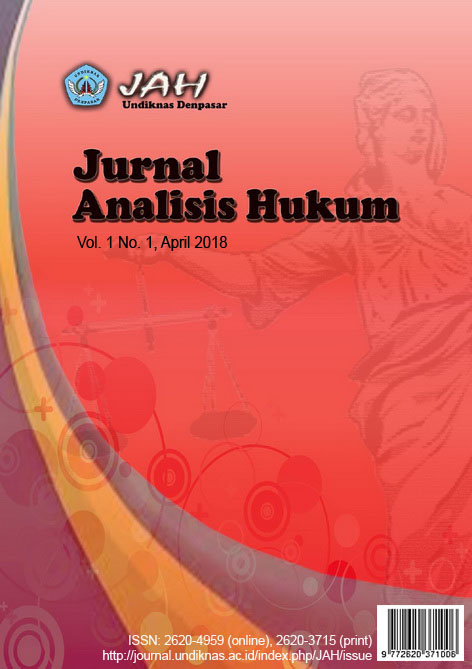 Downloads
How to Cite
1.
Dharma Pura IPW, Budiana IN. KEBEBASAN PENETAPAN MODAL DASAR PERSEROAN TERBATAS OLEH PARA PIHAK BERDASARKAN PERATURAN PEMERINTAH NOMOR 29 TAHUN 2016. JAH [Internet]. 2020Sep.27 [cited 2023Dec.5];1(1):32-51. Available from: https://journal.undiknas.ac.id/index.php/JAH/article/view/238
License
Ciptaan disebarluaskan di bawah
Lisensi Creative Commons Atribusi-BerbagiSerupa 4.0 Internasional
.