Trends and future of human resource management in the 21st century
Keywords:
HRM, people oriented, business, organization, employee
Abstract
Every business is made up of people, its human resources. An organization is nothing without human resources. Human resource management is about managing these people effectively. Now, more than ever, HRM is recognized as being critical to the survival and success of organizations. Continuous changes in technology, economic, social, and psychological understandings, and structures have an influence on both Human Resources and their management. As firms strive to make the HR department leaner and more strategic, current HRM models show that expectations about HR jobs are evolving. Human resource management is critical to every organization's success. It is a source of support and strength. In the present complex milieu, organizations are greatly influenced by changes taking place in internal as well as external environments, no business or organization can change or exist or grow without appropriate human resources. Therefore, human resources have become the focus of attention of every progressive organization. In the changing world, the philosophy and perspective of HRM need to transform and redesign. This paper attempts to spotlight the latest trends in HRM for the present century like Globalization of Economy, Corporation Restructuring, Newer Organizational Designs, Total Quality Management, Kaizen model, etc.
References
Articles
Duvvuri, A. (2021). Recent trends and challenges in human resources management. International Journal of Innovative Research in Engineering & Multidisciplinary Physical Sciences, 9, 6-11.
Ganeshan, M. K., &Vethirajan, C. (2020). Electronic human resource management practices and employee's perception towards information technology. International Journal of Scientific and Technology Research, 9(3), 86-90.
Ganeshan, M. K., and Vethirajan, C. (2019). Emerging trends on E-HRM in information technology industry. Conference paper-Re-Engineering Business Environment for Sustainable Development in India (REBSD-2019), 57-65.
Kumar, N. (2020). Challenges of HR practice in New Era, Paripex. Indian Journal of Research, 9(9), 38-39. https://doi.org/10.36106/paripex
Mary, F. A. (2016). Emerging Trends in Human Resource Management. Anveshana's International Journal of Innovative Concepts in Commerce, Economics and Business Management Practices, 1(1), 1-2.
Prasad, I., Mahatma, T. and Vishwa, G. (2013). Effects of lead on environment effects of lead on environment. International Journal of Emerging Research in Management &Technology, 2(6), 2–6.
Saha, A. (2017). New trends of human resource management. International Research Journal of Management, 8(8), 76-82.
Shoeb, A. (2015). Electronic human resource management: An Overview. International Journal of Science, Technology & Management, 4(1), 79-85.
Singh, H., & Singh, B. P. (2013). Human Resource Management in 21st Century: Emerging Issues and Challenges. International Journal of Organizational Behaviour & Management Perspectives, 2(2), 348-352.
Umadevi, S. M. (2016). Recent trends and challenges in human resources management in India. ANVESHANA'S International Journal of Research in Regional Studies, Law, Social Sciences, Journalism and Management Practices, 1(8), 116-123.
Books
Gupta, C.B. (2007). Human Resource Management (8th ed.). Sultan Chand & sons.
Mamoria, C. B. (2007). A Text Book of Human Resource Management (6th ed.). Himalaya Publishing House.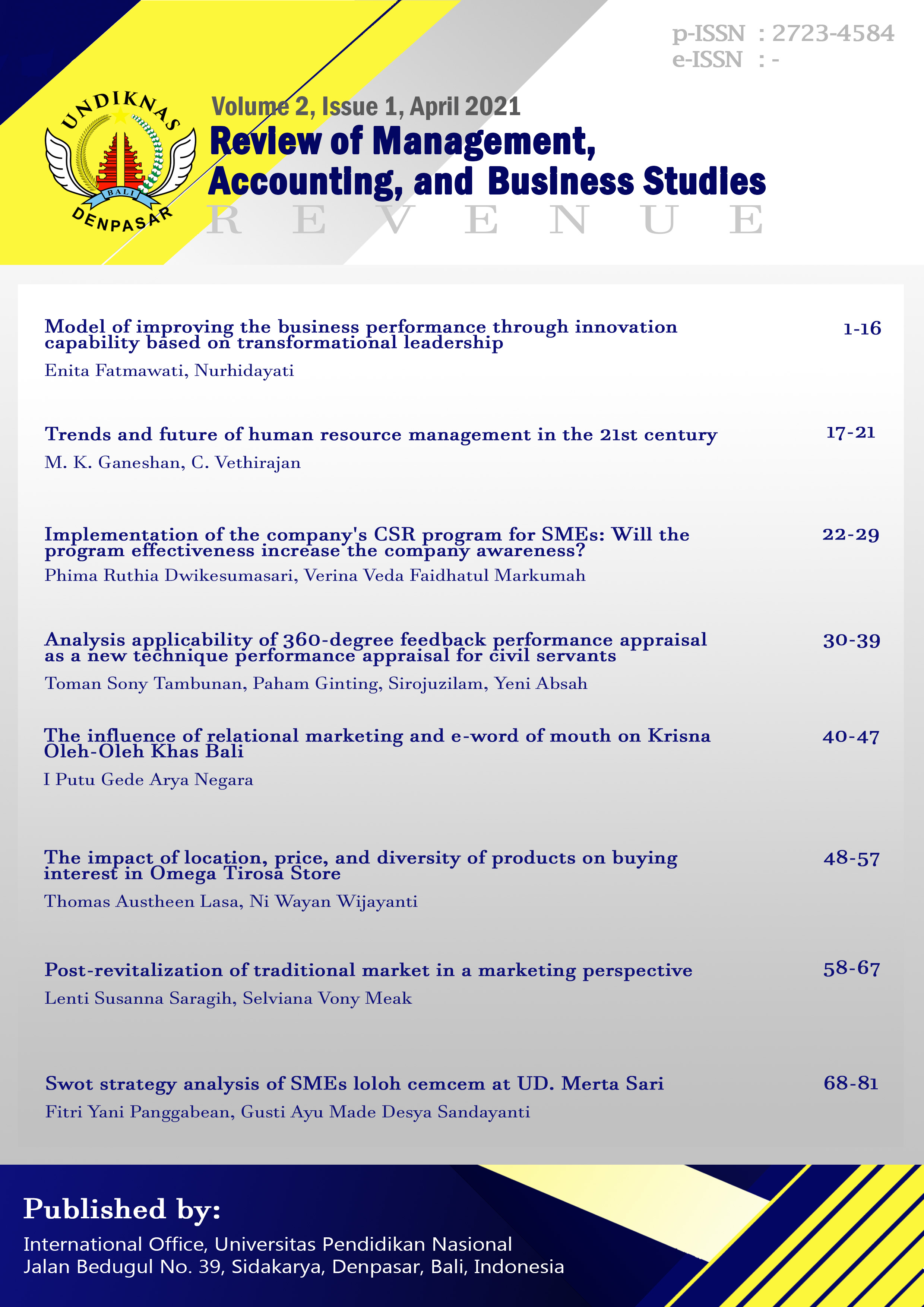 Downloads
How to Cite
1.
GANESHAN MK, Vethirajan C. Trends and future of human resource management in the 21st century. REVENUE [Internet]. 2021Apr.30 [cited 2023Dec.10];2(1):17-21. Available from: https://journal.undiknas.ac.id/index.php/REVENUE/article/view/3642
License
Copyright (c) 2021 M. K. GANESHAN, C. Vethirajan
This work is licensed under a Creative Commons Attribution-ShareAlike 4.0 International License.