The effect of media exposure, type of companies, and environmental performance on carbon emission disclosure of Indonesia companies
Abstract
This study aimed to obtain empirical evidence regarding the effect of media exposure, regulators, environmental performance on the disclosure of carbon emissions in manufacturing companies in Indonesia. Measurement of the extent of carbon disclosure was by using a checklist developed based on the information request sheet provided by the CDP (Carbon Disclosure Project). The population of this study was all manufacturing companies listed on the Indonesia Stock Exchange in 2016-2018. The samples of this research were the listed companies using purposive sampling method. There were 15 companies in 2016, 15 companies in 2017, and 15 companies in 2018 that fit the criteria as the samples of the research. The classic assumption test is performed for data analysis and regression analysis for hypothesis testing. The results of this study indicated that media exposure affects the disclosure of corporate carbon emissions in Indonesia. While the regulator and environmental performance had not any effect on the disclosure of corporate carbon emissions in Indonesia.

Keywords: Carbon Emissions, Greenhouse Gases, Voluntary Disclosures
References
Bae Choi, Bo, Doowon Lee, and Jim Psaros. 2013. "An Analysis of Australian Company Carbon Emission Disclosures." Pacific Accounting Review 25 (1): 58–79. https://doi.org/10.1108/01140581311318968.
Broadbent, Jane, Jeffrey Unerman, and Jane Broadbent. 2014. "Developing the Relevance of the Accounting Academy of Research Approaches." https://doi.org/10.1108/10222521111178600.
Clarkson, Peter M, Yue Li, Gordon D Richardson, and Florin P Vasvari. 2008. "Revisiting the Relation between Environmental Performance and Environmental Disclosure : An Empirical Analysis" 33: 303–27. https://doi.org/10.1016/j.aos.2007.05.003.
Dawkins, Cedric, and John W Fraas. 2011. "Coming Clean : The Impact of Environmental Performance and Visibility on Corporate Climate Change Disclosure," 303–4. https://doi.org/10.1007/s10551-010-0681-0.
Haque, Shamima. 2010. "Stakeholder Pressures and Climate Change Disclosure : Australian Evidence," 1–31.
Harsanti, Ponny. 2011. "Corporate Social Responsibility Dan Teori Legitimasi" 24.
Jones, Peter, Martin Wynn, David Hillier, and Daphne Comfort. 2017. "The Sustainable Development Goals and Information and Communication Technologies" 1 (September 2015): 1–15. https://doi.org/10.28992/ijsam.v1i1.22.
Jung, Juhyun, Kathleen Herbohn, and Peter Clarkson. 2016. "Carbon Risk , Carbon Risk Awareness and the Cost of Debt Financing." Journal of Business Ethics, no. 2007. https://doi.org/10.1007/s10551-016-3207-6.
Kardono. 2010. "Memahami Perdagangan Karbon."
Luo, Le, Qingliang Tang, and Yi-Chen Lan. 2013. "Comparison of Propensity for Carbon Disclosure between Developing and Developed Countries: A Resource Constraint Perspective." Accounting Research Journal 26 (1): 6–34. https://doi.org/10.1108/ARJ-04-2012-0024.
Matsumura, Ella Mae, Washington Dc, Massimiliano Bonacchi, Jeff Burks, Xia Chen, Tom Eggert, Jim Irving, et al. 2016. "Voluntary Disclosures and the Firm-Value Effects of Carbon Emissions." The Accounting Review 89 (2): 695–724.
Nur, Marzully, and Denies Priantinah. 2012. "Analisis Faktor-Faktor Yang Mempengaruhi Pengungkapan Corporate Social Responsibility Di Indonesia (Studi Empiris Pada Perusahaan Berkategori High Profile Yang Listing Di Bursa Efek INDONESIA)." Universitas Negeri Yogyakarta I (1).
Nur Pratiwi, Desy. 2017. "Pengaruh Stakeholder Terhadap Carbon Emission Disclosure." STIE AAS Surakarta 2 (6): 67–72. https://journal.unsika.ac.id/index.php/accounthink/article/download/732/920.
Perpres No. 61 tahun 2011 mengenai Rencana Aksi Nasional Penurunan Emisi Gas Rumah Kaca.
Perpres No. 71 tahun 2011 mengenai Penyelenggaraan Inventarisasi Gas Rumah Kaca Nasional
Pradini, Harlinda Siska, and Endang Kiswara. 2013. "The Analysis of Information Content towards Greenhouse Gas Emissions Disclosure In Indonesia ' s Companies" 2 (2011): 1–12.
Robert, Anne-marie. 2011. "Climate Change Disclosures : An Examination of Canadian Oil and Gas Firms" 5 (1): 106–23.
Undang-Undang Republik Indonesia Nomor 17 Tahun 2004 tentang Pengesahan Kyoto Protocol to the United Nations Framework Convention On Climate Change (Protokol Kyoto atas Konvensi Kerangka Kerja Perserikatan Bangsa-Bangsa tentang Perubahan Iklim).
Wang, Jianling. 2013. "The Determinants Of Corporate Social Responsibility Disclosure: Evidence From China" 29 (6): 1833–48
CDP. 2018. "No Title." 2018. cdp.net.
Intergovernmental Panel on Climate Change. 2019. "No Title." 2019. https://www.ipcc.ch/.
Windrianningsih, Rullil. 2018. "Pengaruh Regulator, Media Exposure, Kepemilikan Institusional, Profitabilitas, Size Dan Tipe Industri Terhadap Carbon Emission Disclosure (Studi Pada Perusahaan Non Finansial Yang Listing Di Bursa Efek Indonesia Tahun 2014-2016)." 2018. http://eprints.umsida.ac.id/id/eprint/4212.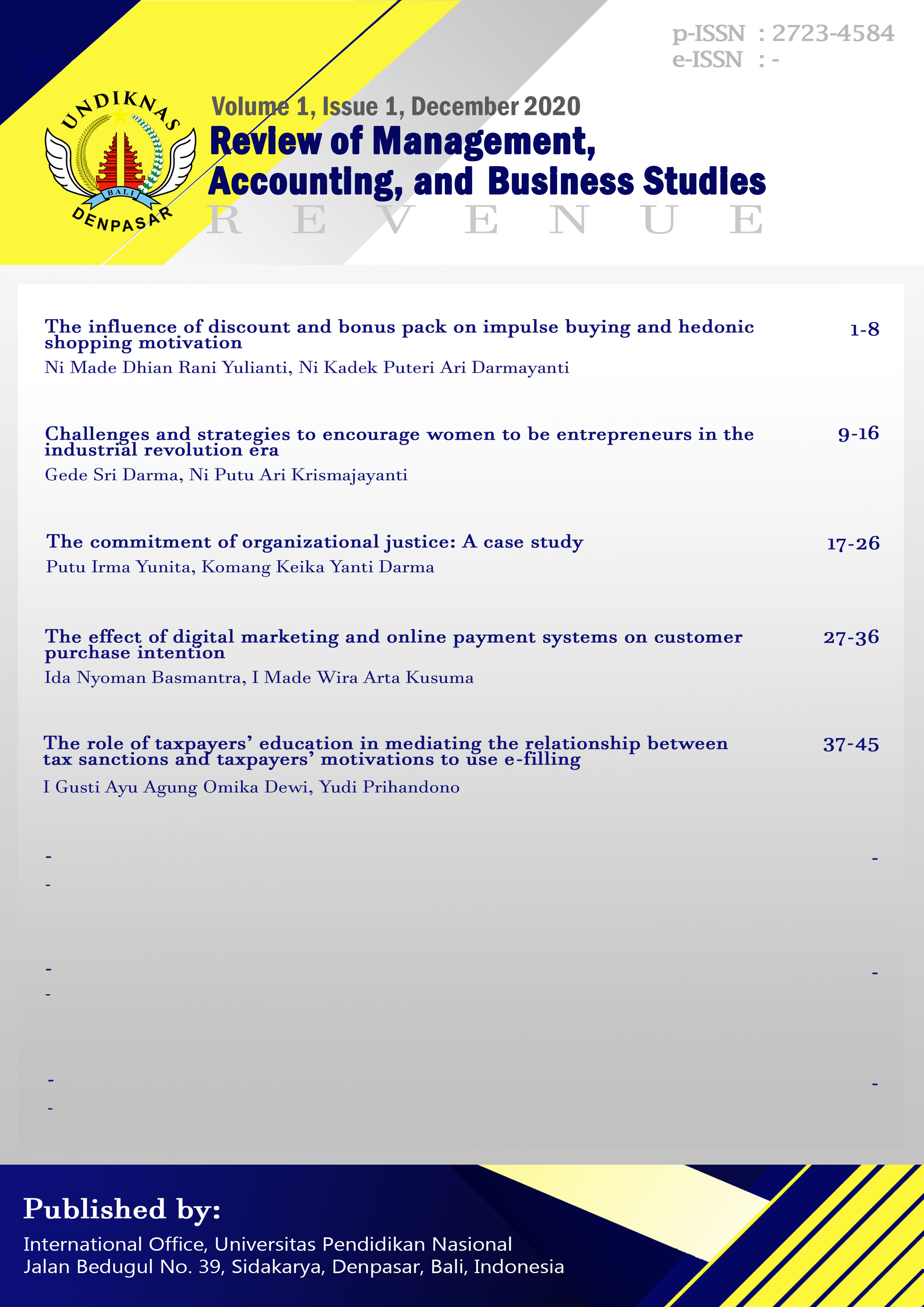 Downloads
How to Cite
1.
Herdiawan IPB, Dewi IGAAP. The effect of media exposure, type of companies, and environmental performance on carbon emission disclosure of Indonesia companies . REVENUE [Internet]. 2020Nov.27 [cited 2022Jan.21];1(1):76-8. Available from: https://journal.undiknas.ac.id/index.php/REVENUE/article/view/2670