The influence of content, influencer, and experiential marketing on customer engagement of online game applications
Abstract
This study was motivated by the rapid development of online games in Indonesia particularly in Denpasar City. It can be seen from the download increasement of online games on a number of platforms such as Playstore, Appstore, and also steam chart. Online games nowadays are easy to be played anywhere and anytime with good image quality. Additionally, the government really appreciate and support the world of online gaming sports or well-known as e-sport. The purposes of this study are; 1) to determine the effect of content marketing on the process of forming customer engagement in online game applications, 2) to find out the influence of influencers on the process of forming customer engagement in online game applications, 3) to determine the effect of experiential marketing on the process of forming customer engagement in online game applications, and 4) to find out whether there is a simultaneous influence between content marketing, influencers, and exprential marketing to customer engagement on online games in Denpasar. This study used quantitative data analysis method. Data collection techniques used were observation and questionnaires. Then, the data were analysed by using SPSS. Partially, content adoption, influencer, and experential marketing have a positive and significant influence towards customer engagement on online games in Denpasar. The results of this study indicated that (1) variable content has a positive and significant effect on customer engagement, (2) influencer variables have a positive and significant effect on customer engagement, (3) experential marketing variables have a positive and significant effect on customer engagement, and (4) content, influencers and experential marketing variables have a positive and significant effect on customer engagement.

Keywords: Content, Influencer, Experential Marketing, Customer Engagement, and Online Games
References
Agus Hermawan, 2019, Internet Game Online. Makalah. Fakultas Teknologi Industri UPN Veteran Yogyakarta
Aji,Z.C, 2012. Berburu Rupiah Lewat Game Online. Yogyakarta: Bounabooks
Andreani, Fransisca., 2007, Experiential Marketing , Jurnal Manajemen Pemasaran, Sebuah Pendekatan Pemasaran, Vol. 2, No. 1, pp 1-8
Arikunto, S. 2013, Prosedur Penelitian: Suatu Pendekatan Praktik.
Jakarta: Rineka Cipta
Brodie, RJ, Ilic, A, Juric, B & Hollebeek, L 2011,'Consumer Engagement in a Virtual Brand Community: An Exploratory Analysis', Journal of Business Research, vol.66, no.1, pp.105-114
Brown Danny and Sam Fiorella, 2013, Influence Marketoing : How to Create Manage, and Measure Brand Influencers in Social Media Marketing, Library of Congress Cataloging in-Publication Data, United States of America. Retrieved from http://ptgmedia.pearsoncmg.com and accessed on February 2, 2019
Buyer, Lisa, 2016, PR Under the Influence: Why Influencer Marketing is all the Buzz Chat. N.p.,Retrieved from https://socialprchat.com and accessed on February 4, 2019
Cangara, Hafied, 2017, Perencanaan dan Strategi Komunikasi. Jakarta
: Rajawali Press
Drajat, Edy., 2017, Pengaruh Intensitas Bermain Game Online Terhadap Perilaku Prokkrastinasi Akademik, Universitas PGRI Yogyakarta
Duncan, T. (2005). Advertising & IMC. Second Edition. New York: Mc.Graw Hill. Retrieved from http://journal.ui.ac.id and accessed on March 20, 2019
Evans, D, McKee, J & Bratton, S 2010, Social Media Marketing: The Next Generation of Business Engagement, Wiley Publishing, Canada
Gamble, Stephen. 2016, Visual Content Marketing Leveraging Infographics, Video, and Interactive Media to Attract and Engage Customers. Canada: Willey
Ghazali, Imam. 2013, Aplikasi Multivariate dengan Program SPSS Edisi Ketujuh. Semarang : Badan Penerbit Universitas Diponogoro
Handal, Nehemia S., 2010, Analisis Pengaruh Experiential Marketing Terhadap Loyalitas, Jurnal Manajemen Universitas Diponegoro. Retrieved from http://eprints.undip.ac.id and accesed on February 4, 2019.
Handika M.R, dkk, Strategi Pemasaran Bisnis Kuliner Menggunakan Influencer Melalui Media Sosial Instagram. Retrieved from http://journal.undiknas.ac.id and accessed on February 13, 2019
Hermawan, Agus, 2012, Komunikasi Pemasaran, Erlangga, Jakarta Hamann, Holly ,2017, 5 Tips for Finding the Right Social Influencers for
Your Brand,Retrieved from http://www.convinceandconvert.com and accessed on April 1, 2019.
Idntimes.com (2019). Retrieved 15 March 2019, from https://www.idntimes.com/Negara Pendapatan Game Online Terbesar.
Investor.id. (2019). Retrieved 3 March 2019, from https://investor.id/archive/2019-pengguna-internet-tembus-175-juta.
Karr, D. 2016, How To Map Your Content To Unpredictable Customer Journeys. Retrieved from http://learn.meltwater.com and accessed on March 20, 2019.
Kertajaya. (2017). Marketing Changes in Challenging Times. Jakarta : Gramedia Pustaka Utama dan Markplus. Inc
Kotler, Amstrong, 2012, Prinsip-Prinsip Pemasaran. Jakarta : Erlangga. Kucuk, S. U., Krishnamurty, S., 2007, An Analysis of Consumer Power
On The Internet.Technovation, 27, pp 47 – 56
Kumar, V 2013, Profitable Customer Engagement : Concepts, Metrics and Strategies, SAGE Publication, India
Lee, Ming-Shing. 2012, The Study of Relationship Among Experiential Marketing, Service Quality, Customer Satisfaction, and Customer Loyalty. The International Journal of Organizational Innovation. Retrieved from http://perpustakaan.unitomo.ac.id and accessed on March 28, 2019
Ledbetter, Erin., 2017, The Change in Influencer Marketing from PR Strategy to Media Strategy, Carusele. Retrieved from https://www.elon.edu/u/academics/communications/journa and accessed on February 28, 2019
Marketing Science Institute, 2010, Understanding Customer Experience and Behaviour: Research Priorities 2010-2012, Cambridge, MA, USA. Retrieved from www.msi.org/ research/2010-2012-research- priorities/ and accessed on February 28, 2019.
Mcpheat S, 2011, Content Marketing. Odongo, Content Marketing : Using it Effectively for Brand Strategy and Customer Relationship Mangement (online).
Newzoo. Newzoo. (2017). Retrieved 3 March 2019, from https://newzoo.com/insights/infographics/the-indonesian-gamer-2017
Novia, Vivi., 2012, Pengaruh Experiential Marketing Terhadap Customer Loyalty, Jurnal Manajemen, Vol.3, No. 2
Paine, K. D. 2011, Measure What Matters : Online Tools for Understanding Customers, Social Media, Engagement and Key Relationships. New Jersey: John Wiley & Sons. Inc (online) Retrieved from http://journal.ui.ac.id and accessed on March 20, 2019
Ryan, Damian. 2015, Understanding Social Media, How to Create a Palan for Your Business That Works. London: Kogan Page.
Sanusi, Anwar. 2011, Metodologi Penelitian Bisnis. Jakarta : Salemba Empat.
Schmitt, H. Bernd., 1999, Experiential Marketing: How To Get Your Customer To Sense, Feel, Think, Act and Relate To Your Company And Brands, New York: The Free Press.
Sugiyono. 2010. Metode Penelitian Administratif. Bandung: Alfabeta Sugiyono. 2013. Metode Penelitian Pendidikan Pendekatan Kuantitatif, Kualitatif, dan R&D. Bandung: Alfabeta.
Sugiyono, 2017, Metode Penelitian Kuantitatif, Kualitatif dan R&D. Bandung: PT Alfabet.
SWA, 2001, Sajian Utama mengenai Experiential Marketing dan Emotional Branding, No. 24, Tahun XVII. Retrieved from http://ejournal.undip.ac.id/index.php/smo and accessed on February 3, 2019.
Tech in Asia Indonesia - Komunitas Online Startup di Asia. Id.techinasia.com. (2016). Retrieved 6 February 2019, from https://id.techinasia.com/perkembangan-pasar-game-indonesia-salah- satu-yang-tertinggi-di-2016
Uma, Sekaran. 2006. Research Methods For Business (Metode Penelitian untuk Bisnis). Edisi empat buku 1. Salemba Empat.
Verhoef, et al., 2010, Customer Engagement as a New Perspective in Customer Management, Journal of Service Research, vol.13, no.03, pp.247-252.
Yazdanfirad., & Kee. 2015, The Review of Content Marketing as a New Trend in Marketing Practices. International Journal of Management, Acounting and Economics, Vol. 2 No.9
Yoganarasimhan, H., 2012, Impact of Social Network Structure on Content Propagation – A Study using YouTube Data, Quantitative Marketing and Economics, pp 111–150. Retrieved from https://faculty.washington.edu and accessed on February 2, 2019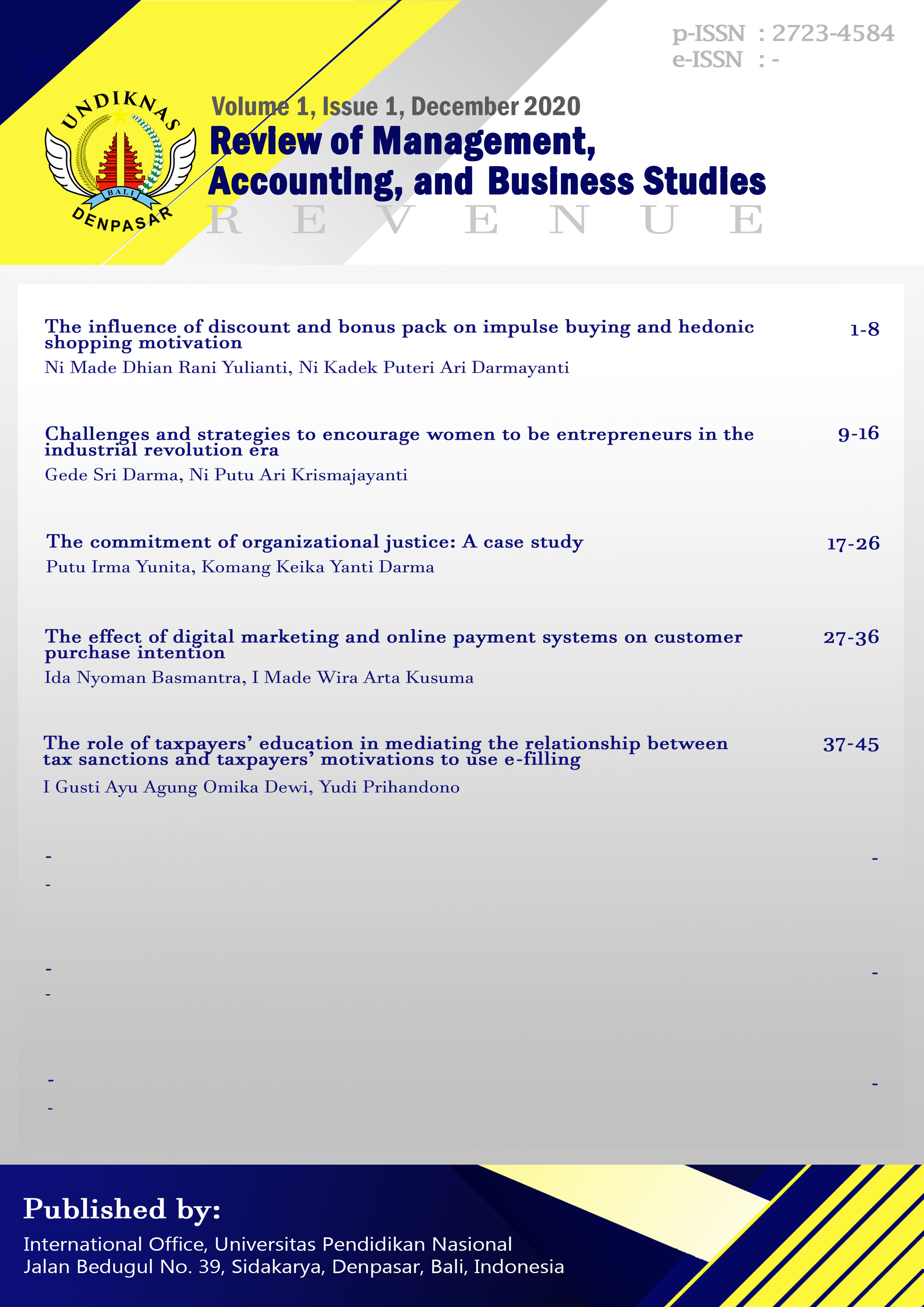 Downloads
How to Cite
1.
Aprialita SD, Sari DMFP. The influence of content, influencer, and experiential marketing on customer engagement of online game applications . REVENUE [Internet]. 2020Nov.27 [cited 2022Jan.21];1(1):36-48. Available from: https://journal.undiknas.ac.id/index.php/REVENUE/article/view/2665