The commitment of organizational justice: A case study
Abstract
This study aimed to examine the effect of distributive justice, procedural justice, and interactional justice on commitment at ISTA Cooperative Penatih Denpasar. The population of this study was all employees at ISTA Cooperative Penatih Denpasar, which were 33 respondents. The hypothesis in this study are tested using T test and F test. The data analysis techniques used in this study were classical assumption test, multiple linear regression analysis, and model feasibility test. The results of the study indicated that distributive justice, procedural justice, and interactional justice had a positive and significant effect on commitment by t-test and f-test had simultaneously influences on commitment at ISTA Cooperative Penatih Denpasar.

Keywords: Distributive Justice, Procedural Justice, Interactional Justice, Employee Commitment
References
Chi, and Han. 2008. "Exploring the Linkages between Formal Ownership and Psychological Ownership for the Organization: The Mediating Role of Organizational Justice." Journal of Occupational and Organizational Psychology 81 (4): 691–711.
Choudhary, Neetu, Rajender Kumar Deswal, P J Philip, and Professor and. 2016. "Impact of Organizational Justice on Employees' Workplace and Personal Outcomes: A Study of Indian Insurance Sector." IUP Journal of Organizational Behavior, no. December.
Friday, Edeh Ogbu, and Joy N Ugwu Ph D. 2019. "ORGANISATIONAL JUSTICE AND EMPLOYEE COMMITMENT OF SELECTED PRIVATE SECONDARY" 1 (1): 18–
Greenberg, J. 1990. "Organizational Justice: Yesterday, Today and Tomorrow." Journal of Management, no. 16.
Li, Xi, and Yuwen Zeng. 2019. "How to Reduce Hospitality Employees' Deviant Behavior: An Organizational Justice Perspective," no. Ecomhs: 929–37. https://doi.org/10.25236/ecomhs.2019.201.
Samad, S. 2006. "Procedural and Distributive Justice: Differential Effects on Employees' Work Outcomes." The Business Review 5 (2): 212–18.
Sugiyono. 2015. Metode Penelitian Pendidikan (Pendekatan Kuantitatif, Kualitatif Dan R&D). Alfabeta, Bandung: Penerbit CV.
Tjahjono, Heru Kurnianto, Olivia Fachrunnisa, and Majang Palupi. 2019. "Configuration of Organisational Justice and Social Capital: Their Impact on Satisfaction and Commitment." International Journal of Business Excellence 17 (3): 336–60. https://doi.org/10.1504/IJBEX.2019.097957.
Umar, Husien. 2002. Metode Riset Bisnis. Jakarta: PT Gramedia Pustaka Utama.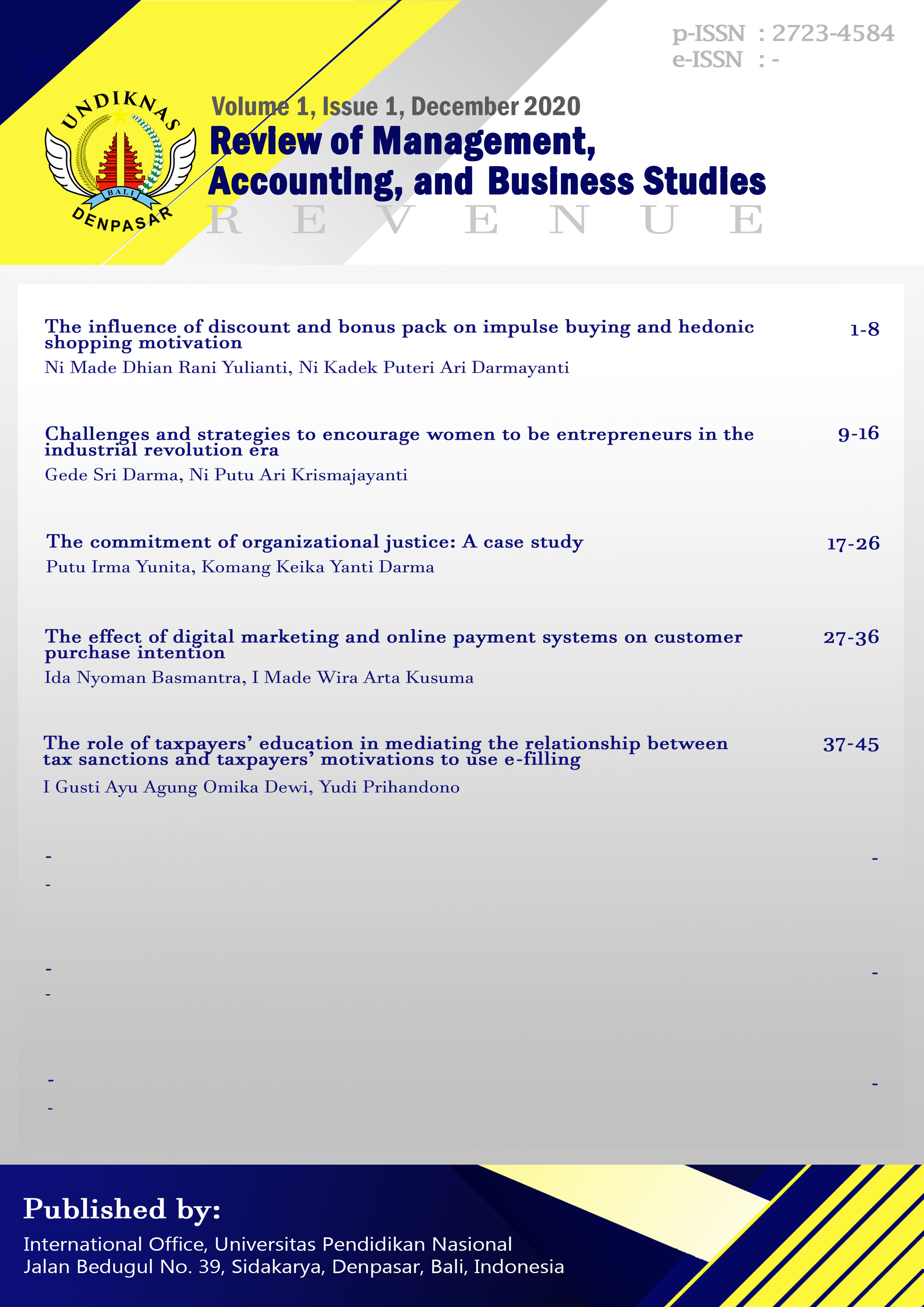 Downloads
How to Cite
1.
Darma KKY, Yunita PI. The commitment of organizational justice: A case study. REVENUE [Internet]. 2020Nov.27 [cited 2022Jan.21];1(1):21-35. Available from: https://journal.undiknas.ac.id/index.php/REVENUE/article/view/2664