Challenges and strategies to encourage women to be entrepreneurs in the industrial revolution era
Abstract
Entrepreneurship sector is one of the business sectors that become choice for women. Nowadays, living in the global era and in line with the improvement of gender equality will create the opportunity for women to play a role in economy are getting larger. In economy industry of Indonesia, women are actively contributed in small, medium and large enterprises. The government of Indonesia supports women entrepreneur as to increase the economy welfare of the country. Unfortunately, Indonesia has entered a digital revolution called Industrial Revolution 4.0. One of technological advancement today which integrates with the physical, digital and biological world make fundamental changes into everyday human activities and life. However, this development era is still often hampered due to constraints for women to be an entrepreneur. This research aimed to know if the Educational Factors, Dual Role Factors and Socio – Cultural Factors be main challenges for women entrepreneur. This research used Structural Equation Modelling method and using AMOS 26 program. This research also obtained Strategies to encourage woman to be entrepreneur.

Keywords: Woman Entrepreneur, Constraint and Challenges, Strategies, Industrial Revolution 4.0
References
Yuyuk Liana. 2016. Kajian Wanita Berwirausaha Sebagai Upaya Meningkatkan Pendapatan Keluarga. Jurnal JIBEKA Volume 10 Nomor 1 Agustus 2016: 83 - 90.
Rizal, M., Setianingsih, D., & Chandra, R. 2016. Faktor-faktor yang Mempengaruhi Wanita Berwirausaha (Studi Kasus di Kota Langsa). Jurnal Manajemen Dan Keuangan, 5(2), 525-534. Retrieved from https://ejurnalunsam.id/index.php/jmk/article/view/72. [Accessed on 9 September 2019]
Bayu Sumantri, Anna Fariyanti, Ratna Winandi. 2013. Faktor-Faktor yang Berpengaruh terhadap Kinerja Usaha Wirausaha Wanita: Suatu Studi pada Industri Pangan Rumahan di Bogor. Jurnal Manajemen dan Teknologi.
Sisca Erica, Irin Safitri dkk. 2019. Revolusi Industri 4.0: Pandangan dan Potensi di Indonesia. [online] Retrieved from https://www.kompasiana.com/audiemasola2901/5cda5dd595760e0a23125152/r evolusi-industri-4-0-pandangan-dan-potensi-di-indonesia?page=all [accessed on 10 September 2019]
Ni Wayan Suarmini, Siti Zahrok, Dyah Satya Yoga Agustin. 2017. Peluang Dan Tantangan Peran Perempuan Di Era Revolusi Industri 4.0.
Mazlina Mustapha, Punitha A/P Subramaniam. 2016. Challenges and Success Factors of Female Entrepreneurs: Evidence from a Developing Country. International Review of Management and Marketing, 2016, 6(S4) 224-231.
Hengky Widhiandono, Muchammad Agung Miftahuddin, dan Akhmad Darmawan. 2016. Pengaruh Faktor Internal, Faktor Ekternal Dan Faktor Pendidikan Terhadap Intensi Kewirausahaan Alumni Mahasiswa. Prosiding Seminar Nasional Ekonomi dan Bisnis & Call For Paper FEB UMSIDA 2016.
Stevin M.E. Tumbage Femmy C.M. Tasik Selvi M. Tumengkol. 2017. Peran Ganda Ibu Rumah Tangga Dalam Meningkatkan Kesejahteraan Keluarga Di Desa Allude Kecamatan Kolongan Kabupaten Talaud. e-journal "Acta Diurna" Volume VI. No. 2. Tahun 2017.
Alma, Buchari. 2009. Kewirausahaan untuk mahasiswa dan umum. Alfabeta.
Bandung.
Musran Munizu. 2010. Pengaruh Faktor-Faktor Eksternal dan Internal Terhadap Kinerja Usaha Mikro dan Kecil (UMK) di Sulawesi Selatan. Jurnal Manajemen Dan Kewirausahaan, Vol.12, No. 1, Maret 2010: 33-41
Rahma Akhter, Farhana Rahman Sumi. 2014. Socio-Cultural Factors Influencing Entrepreneurial Activities: A Study on Bangladesh.IOSR. Journal of Business and Management (IOSR-JBM) e-ISSN: 2278-487X, p-ISSN: 2319-7668.
Volume 16, Issue 9.Ver. II (Sep. 2014), PP 01-10 www.iosrjournals.org.
Laura Narry. 2018. Factors affecting Entrepreneurship Development. Retrieved from
: [online] https://www.quora.com/What-are-cultural-factors-that-inhibit- entrepreneurship [accessed on 13 september 2019]
Muhammad Rizal, Dias Setianingsih, Riny Chandra. 2016. Faktor-faktor yang Mempengaruhi Wanita Berwirausaha (Studi Kasus di Kota Langsa). Jurnal Manajemen Dan Keuangan, Vol.5, No.2, November 2016.
Sehani. 2016. Faktor-Faktor Yang Mempengaruhi Keputusan Perempuan Memilih Berwirausaha (Studi Kasus Pada Penjahit Pakaian Di Kecamatan Tampan - Pekanbaru). Marwah: Jurnal Perempuan, Agama dan Jender.
Fardin Vakili, Nemat Tahmasebi, Sairan Tahmasebi, Delaram Tahmasebi. 2016.
Role of Education in Entrepreneurship Development. J. Ecophysiol. Occup. Hlth. 16(3&4), 2016, 78–87
Fridah Muriungi Mwobobia. 2012. The Challenges Facing Small-Scale Women Entrepreneurs: A Case of Kenya. International Journal of Business Administration Vol. 3, No. 2; March 2012.
Elizabeth Chinomona, Eugine Tafadzwa Maziriri. 2015. Women in Action : Challenges Facing Women Entrepreneurs In The Gauteng Province Of South Africa. International Business & Economics Research Journal November/December 2015 Volume 14, Number 6.
Wim Naudé. 2017. Entrepreneurship, Education and the Fourth Industrial Revolution in Africa. Discussion Paper Series IZA DP No. 10855.
Patrice Braun. 2008. Women Entrepreneurs In The Digital Economy: What Skills Do They Really Need?. AGSE 2008.
Asghar Afshar Jahanshahi, Prof. Dr. Bairagi Khacardas Pitamber, Khaled Nawaser. 2010. Issues and challenges for women entrepreneurs in global scene, with special reference to India. Australian Journal of Basic and Applied Sciences, 4 (9): 4347-4356, 2010ISSN 1991-8178.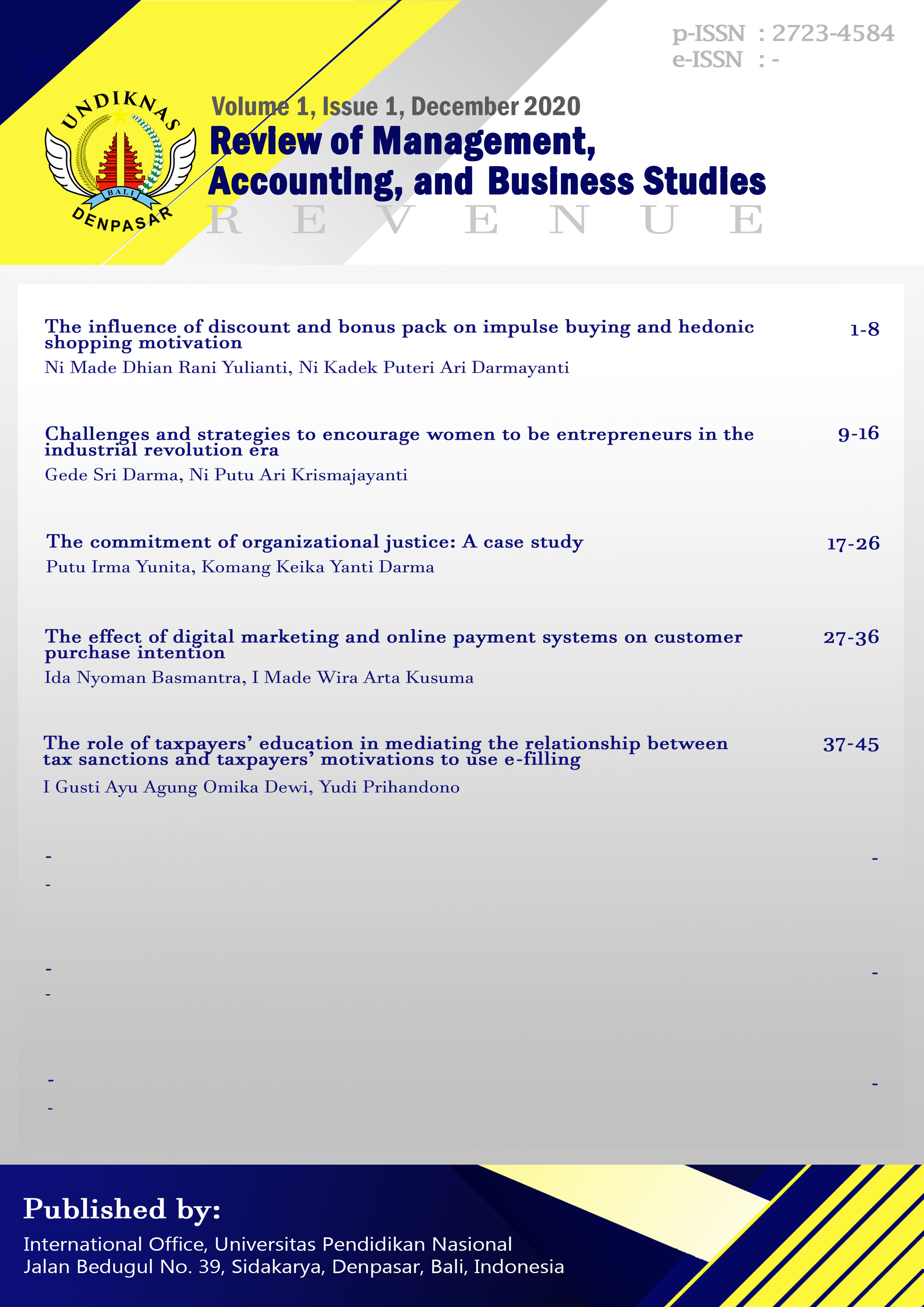 Downloads
How to Cite
1.
Krismajayanti NPA, Darma GS. Challenges and strategies to encourage women to be entrepreneurs in the industrial revolution era. REVENUE [Internet]. 2020Nov.27 [cited 2022Jan.21];1(1):12-20. Available from: https://journal.undiknas.ac.id/index.php/REVENUE/article/view/2663