REFLEKSI IMPLEMENTASI PROGRAM PENGEMBANGAN KREDIT USAHA MIKRO BAGI KOMUNITAS MISKIN PERKOTAAN
Keywords:
Penanggulangan Kemiskinan, Pemberdayaan, Kredit Mikro
Abstract
Program pemberdayaan ekonomi untuk menanggulangi masalah kemiskinan perkotaan, salah satu program yang diupayakan adalah  program Koperasi Jasa Keuangan-Pemberdayaan Ekonomi Masyarakat Kelurahan (KJK-PEMK) dan dikelola secara khusus oleh Unit Pengelola Dana Bergulir (UPDB) serta dikoordinasikan di tingkat kelurahan. Selama pelaksanaan program lebih dari 60% wilayah teridentifikasi tidak berhasil. Untuk itu, artikel ini bertujuan untuk mendeskripsikan faktor-faktor yang menyebabkan ketidakberhasilan sebagai refleksi implementasi program. Artikel ini didasarkan pada hasil penelitian menggunakan metode pendekatan kualitatif-deskriptif dan berfokus pada salah satu kelurahan (X) di DKI Jakarta sebagai salah satu wilayah program yang menempati rangking tertinggi kategori tidak berhasil, dengan mengacu pada indikator kelancaran pengembalian dana bergulir. Penelitian ini melibatkan informan antara lain pengelola dan penerima program KJK PEMK (X) dengan pengumpulan melalui data primer melalui wawancara mendalam dan observasi serta data sekunder berupa laporan program. Hasil temuan menunjukkan bahwa ketidakberhasilan program disebabkan faktor manusia dan sosial, faktor non manusia dan sosial, serta faktor penerapan kebijakan dan program yang masih yang mendukung perilaku negatif penerima program. Untuk itu, implementasi program penanggulangan kemiskinan melalui pemberdayaan ekonomi seharusnya perlu menekankan pada keseluruhan aspek, bukan sekedar fokus pada peningkatan modal ekonominya    
Kata Kunci: Penanggulangan Kemiskinan, Pemberdayaan, Kredit Mikro
Downloads
Download data is not yet available.
References
Adi, Isbandi Rukminto. (2013). Intervensi Komunitas: Pengembangan Masyarakat Sebagai Upaya Pemberdayaan Masyarakat. Edisi Revisi 2012. Jakarta: Rajawali.
Babbie, E. (2010). The Practice of Social Research. 13th edition. Australia: Wadsworth Cengage Learning.
Brook, R. M., Hillyer, K. J., & Bhuvaneshwari, G. (2008). Microfinance for community development, poverty alleviation and natural resource management in peri-urban Hubli-Dharwad, India. Environment and Urbanization, 20 (1), 149–163. https://doi.org/10.1177/0956247808089153
Bryman, Alan. (2008). Social Reseacrh Method. New York: Oxford University Press.
Green, L. W., Kreuter, M.W. (1991). Health Promotion Planning: An Educational and Environmental Approach. USA: Mayfield Publishing Company.
Green, G.P., & Haines, A. (2012). Asset Building and Community Development. 3rd ed. London: SAGE Publication, Inc.
Faisal, Sanaipah. (2003). Format-Format Penelitian Sosial. Jakarta: Raja Grafindo Persada.
Hulme, D. Arrun, T. (2009). Microfinance: A Reader. London: Routledge.
Kabeer, N (2009). Women's economic empowerment: key issues and policy options. Sida Policy (SIDA51910en). Swedish International Development Cooperation Agency (SIDA), Stockholm.
Kirst-Ashman, K. K.. (2010). Introduction to social work and social welfare. Australia: Brooks/Cole.
Midgley, J. (2014). Social Development: Theory and Practice. London: Sage Publication.
Rubin, Allen & Babbie, Earl R. (2008). Research Methods for Social Work. 6th Ed. USA: Thomson Brooks/Cole.
Sakethi. (2010). PPMK: Program Pemberdayaan Masyarakat Kelurahan Provinsi DKI
Jakarta. Jakarta: PT Mirah Sakethi.ww.beritajakarta.com/download/ppmk_ver_ind.pdf (Diakses pada 29 Desember 2017)
Sengupta, N. (2013). Poor Women's Empowerment: The Discursive Space of Microfinance. Indian Journal of Gender Studies, 20 (2), 279–304. https://doi.org/10.1177/0971521513482220
Sugiana (2012). Kebijakan Penanggulangan Kemiskinan Melalui Program Pemberdayaan Ekonomi Kelompok Usaha Bersama (Kube) Di Jakarta Selatan. Tesis. Universitas Indonesia.
UPDB DKI Jakarta (April, 2015). Laporan Dana Bergulir DKI Jakarta. Tidak dipublikasikan.
Waldfogel, J. Craigie., T., Gunn, J.B. (2010). Fragile Families and Child Wellbeing. Future Child. 2010 Fall; 20(2): 87–112. https://www.ncbi.nlm.nih.gov/pmc/articles/PMC3074431/ (Diakses pada 15 Februari 2019)
Widayati, S. (2013). Pemberdayaan Ekonomi Melalui Dana Bergulir PNPM Mandiri bagi Kelompok Simpan Pinjam Perempuan di Desa Sraten Kabupaten Semarang. Jurnal Ilmiah Inkoma, Vol. 24, No. 1 (2013). http://jurnal.undaris.ac.id/index.php/jurnal/article/view/20 (Diakses pada 12 Januari 2019)
Wulan, Y.C., Ati, N.U., & Widodo, R.P. (2019). Implementasi Kebijakan Penanggulangan Kemiskinan melalui Program Pemberdayaan Ekonomi Kelompok Usaha Bersama (KUBE) di Kota Probolinggo, Jawa Timur. Jurnal Respon Publik, 13 (4), 104-109. http://riset.unisma.ac.id/index.php/rpp/article/view/3596/3233
Zuber, A. (2014). Kemiskinan dalam Pembangunan. Jurnal Analisa Sosiologi, 3 (1), 70-90. https://jurnal.uns.ac.id/jas/article/viewFile/17450/13938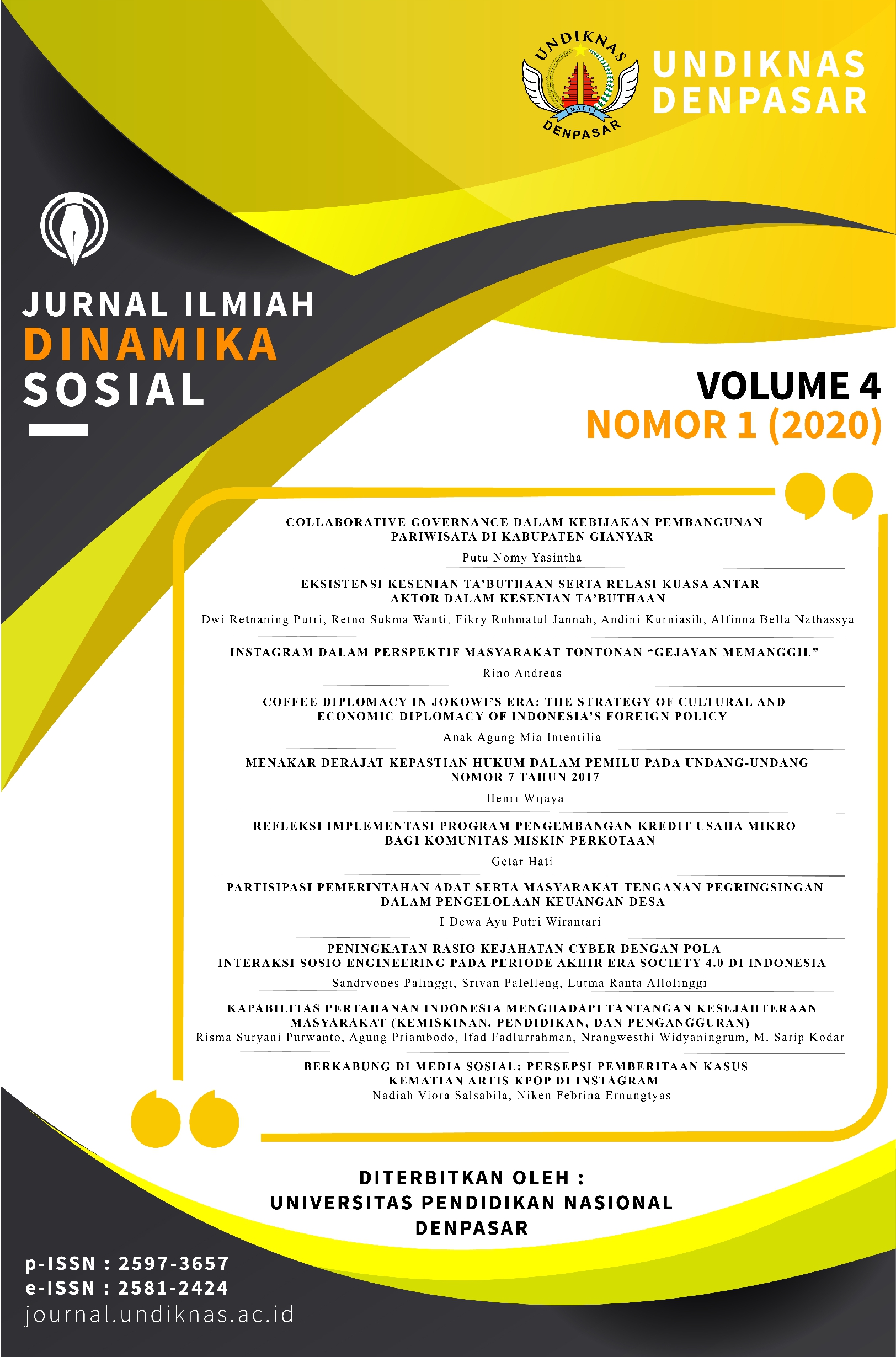 Downloads
How to Cite
1.
Hati G. REFLEKSI IMPLEMENTASI PROGRAM PENGEMBANGAN KREDIT USAHA MIKRO BAGI KOMUNITAS MISKIN PERKOTAAN. JIDS [Internet]. 2020Feb.29 [cited 2022Jan.27];4(1):105-24. Available from: https://journal.undiknas.ac.id/index.php/fisip/article/view/2303